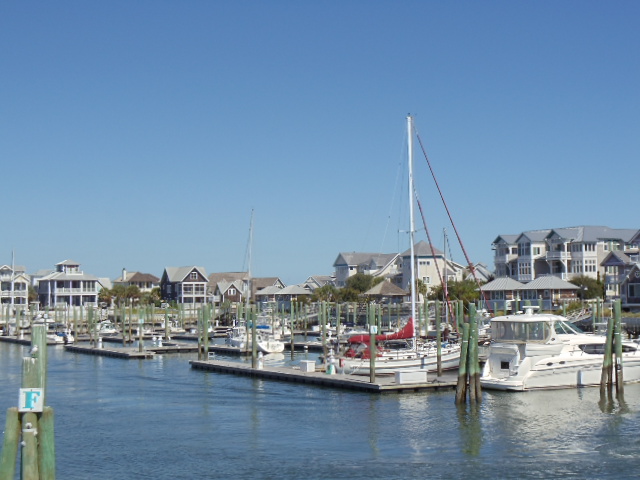 When visiting this BHI you don't want to miss Bald head Island. This will be an adventure you will cherish and want to keep returning to year after year…or whenever you want a getaway, a family reunion or just celebrate you. The adventure begins by taking a 20 minute passenger ferry ride from Southport's Deep Point Marina to the Island. You must visit Old Baldy when you get there. This is North Carolina's oldest lighthouse. There is a gift shop and museum there as well. Be prepared to climb!! It's a work out but the 360 degree view will be worth it. Learn about the seafaring history. While you are there check out the Chapel. Such a beautiful setting, You'll see!
Riding the tram you begin to see why this Island is so special. To some it seems like they finally know the secret! This is paradise. You arrive at your destination. It could be an ocean view home, a condo in the forest, somewhere on the marsh, the golf course, or directly on the ocean. Unpack quickly and make your plans to jump in your golf cart. You may just want to drive around to get your bearings or start with a quiet walk on the beach. There are island rentals available as well…. bikes, kayaks, golf carts, fishing gear, jogging strollers – and more.
Points of Interest
The Smith Island Museum of History offers a self-guided historic audio tour of the island.
Old Baldy Lighthouse https://www.oldbaldy.org)
There are historic homes called Captain Charlie's Station, circa 1903 that sit high up on a dune. These homes were constructed to house the Cape Fear Lighthouse keepers and their family. These are available for rent and you can day dream about what it would have been like living there. (https://www.ourstate.com/captain-charlies-cottages)
While on the island there are a variety of nature programs offered at the Island Conservancy (https://www.bhic.org)
You will want to stop at Turtle Central for a little shopping (http://www.bhic.org/store). This should be an all day visit based on ferry times
Time to Eat?
Brunch or Lunch – Mike's Bites (Sandwiches) or Mojo's
Dinner – The Grille at Bald Head Island